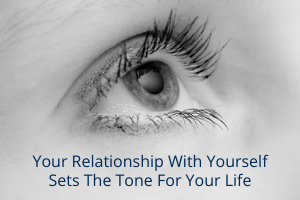 When we first start our journey of uncovering ourselves, we won't necessarily see each step we'd like to take with our lives. We would see and eliminate unwanted behavior. Up until the time we start our journey, our lives likely consist of a multitude of things we did that we didn't recognize as things we didn't really care for. Things we likely did because we felt we didn't have a choice. Things we likely did out of habit.
Then suddenly, we wake up to our ways. And in this maze of things we do, we now need to somehow see our way clear and know what we want with our lives. This realization, and the associated realizations, could be daunting. Due to doubts and risks and concerns about what will happen to us on our journey, which likely deviates almost totally from the direction humankind is moving in, these things might seem almost impossible to accomplish.
Turning Our Lives Away From Unwanted Behavior
Suddenly we turn our lives upside down, inside out and around, yet we need to see clearly which way we'd like to go. Which path we'd like to take. Which fork in the road we'd like to go down. Especially in the beginning of our newfound journey, this is likely difficult. During this time, and any time later, it would likely become quite clear to us that certain things we used to do, we just don't want to do anymore. So instead of directly taking new steps down our path, we can instead just stop doing the old things that don't interest us anymore, the unwanted behavior.
To stop pursuing things we've lost interest in is taking indirect steps down our path. In so doing, we slowly but surely get closer to the things we'd like with our lives. In this way, we can uncover ourselves by eliminating previous unwanted behavior that we now see doesn't suit us, or isn't our preference anymore.
The likelihood also exists that, momentarily, we can't see our next step. There might be several reasons for this. The newness of our journey. Our journey overwhelming us. We might even be tired from having been driven for many years of our lives, so that instead of taking action and doing something, we feel like doing "nothing"—just not doing anything.
Well, we don't have to always be doing things. We can stop and do nothing. That is, if we're serious about our journey, and when gaps occur where we don't immediately see our next step, we can temporarily do nothing. Since we're still serious about our journey, after doing nothing for a while, the steps we'd like to take will likely become evident to us, however slowly. So we don't need to be alarmed at wanting to do nothing. Especially in the beginning of our journey, but also later on, it's expected.
By eliminating the things we have no interest in anymore, the unwanted behavior, following periods of doing nothing, apart from likely gaining well-deserved rest, we'll also have more time on our hands, and with this time we can instead do things we like doing.
Clarity With Unwanted Behavior
With each step of our journey, look for unwanted behavior. Even though you see it, it would not always be easy to eliminate such unwanted behavior. Some things would have been ingrained over a long period, as habits, those may not be easy to break. Don't beat yourself up when they seem impossible to eliminate. Notice how your struggle with them might even be the cause of the headache you have at the time. Being aware that things might not be easy, helps. As with learning to walk, it wasn't easy, it takes practice in some cases. With intention, it becomes clearer and easier.
Why You Keep Doing Things You Hate: Understanding Unwanted Behavior Patterns, the author asserts: This post is about how to stop unwanted behavior patterns by understanding the hidden (and not so hidden) "psychological payoffs" associated with the behavior.